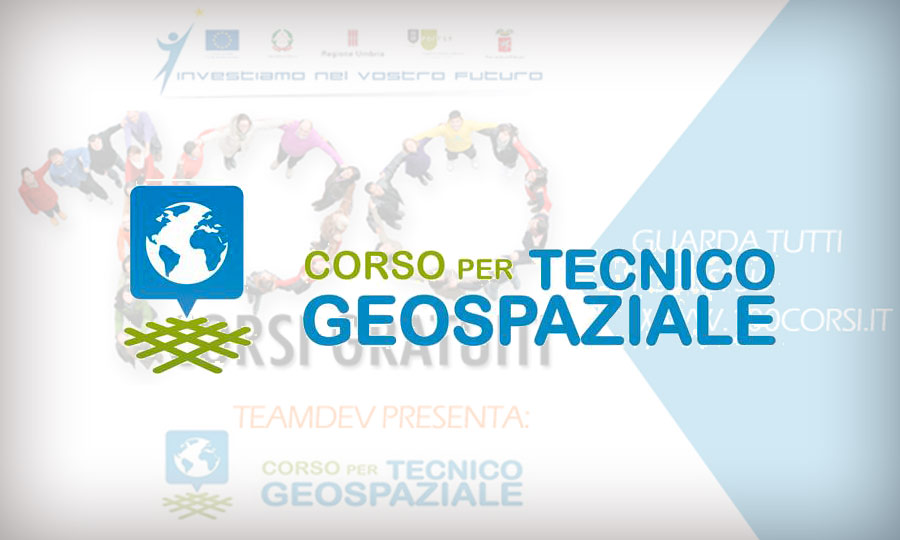 Master for Geospace Technologies Technician
Fondazione Perugiassisi 2019  has recently presented 100corsi training programme, 100 types of short training courses on culture and entertainment, green economy, construction industry, languages and information technology, communication and business.
The aim of the project is to make the learning of the basic skills required in every economic and social context easier and to create specialized professional profiles.
Thanks to the funding of the ESF – European Social Fund concerning the Programma Operativo Regionale (POR) Umbria 2007-2013 – Asse Capitale Umano, provided by the Province of Perugia, these training courses are free form for all citizens of the Province of Perugia from 25 to 64 years of age.
Teamdev together with other partners and Forma.azione will be responsible for the Master for Geospace Technologies Technician.
Programma del corso
Fondamenti di rappresentazione cartografica
Sistemi informativi geografici
Geodatabase per l'archiviazione e la gestione dei dati geospaziali
Manipolazione e analisi dati spaziali con il geoprocessing
Cartografie professionali per la stampa e il web
Rilievi topografici con il GPS
Web services specializzati per la condivisione dell'informazione geospaziale
Dati Raster
Acquisizione e modellazione dati 3D con Laser Scanner
Realizzazione di un Web Gis ed un geospaziale
Creazione, visualizzazione e analisi di dati in un contesto 3D
Dati Lidar
Dati e mappe in ambiente cloud
Analisi di dati con la statica spaziale e la geostatica
Trattamento ed elaborazione di dati telerilevanti
Esercizio di un'attività lavorativa in forma dipendente o autonoma
The Geospace Technologies Technician is a professional profile specializing in advanced geospatial techniques for land data survey, processing, analysis and publishing. Its role is transversal and support various fields related to the territory and the environment.
Precisely for the multidisciplinary approach, Geospace Technologies Technician is crucial in providing classical professions with a broader and more innovative methodological approach in the analysis of territorial and environmental issues.
The project is realized in collaboration with Corriere dell'Umbria.