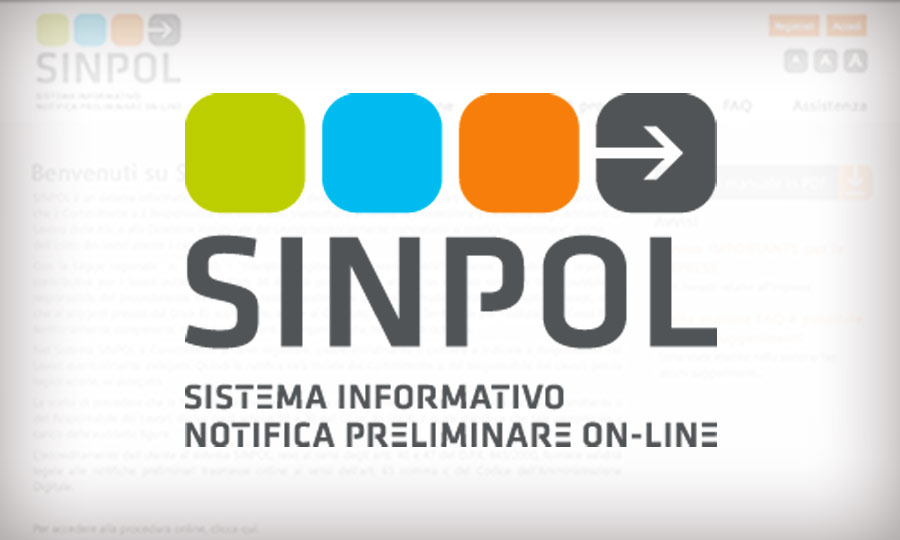 SINPOL :: Sistema di Notifica Preliminare OnLine
SINPOL is a system used for data transmission of preliminary notification.
Sistema Informativo di Notifica Preliminare OnLine (SINPOL) is the solution dedicated to the informatization of the procedures required for the registration of preliminary notifications.
The preliminary notification of the opening of a construction site is a communication that the buyer or the person in charge of those works must send before the construction site will be opened to ASL, Direzione Territoriale del Lavoro, Comitato Paritetico Territoriale and Cassa Edile Territoriale competenti, according to the legal obligations – D.Lgs. n. 81/2008 e della L.R. 1/2004 e 3/2010.
SINPOL allows to perform this function.
It represents an important innovation for Public Administration not only because it enables computerization of a laborious process, but also because it can be entirely cloud-based (in the specific case of Umbria Region, Microsoft Cloud – Azure – was the first experience in Italy of this type).
Environmental impact
Thanks to this tool, 
 it is possible to save energy, water, CO2, paper, economic resources, and time, in order to avoid big amount of printed paper by guaranteing a real-time update according to the institution's statistical values.

Feedback
SINPOL has had great success since the first four months of its production: about 2950 users, which in 2013 completed more than 3,000 Preliminary Notifications for a total of 2261 sites.