Every month, Assintel (National Association of ICT Companies of Confcommercio) organizes "The Member of the Month", a contest to reward the member companies that stand out in original and excellent activities and projects.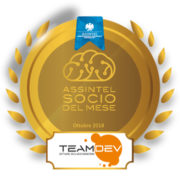 TeamDev won this prize for the project implemented in collaboration with the City of Independence, in Oregon.
The pilot project
The pilot was financed by FIWARE GCTC Challenge 2017 competition promoted by the NIST (US National Institute of Standards and Technology), that has the goal to replicate top smart solutions based on FIWARE in US cities.
Thus, TeamDev with the City of Independence received $ 25,000 in funding answer to the city administration needs.
The City of Independence
Independence is an United States small town of 8,600 inhabitants, located in Polk County, Oregon. During the Independence Day celebrations, the city welcomes over 20,000 people in an area of ​​7.30 km2, and the concern of the authorities is addressed to security. The staff available for events of these proportions is under number.
WiseTown – Situation Room" platform
The "WiseTown – Situation Room" platform, created by TeamDev and based on Fiware Technology, is an event management system that allowed to monitor ​​the city in real time for the entire duration of the manifestation. It kept under control the thickening of the people, traffic management and communication with citizens, speeding up intervention practices and simultaneously involving various figures directly on the field, with zero impact on the territory.
"Member of the Month"
The Pilot submitted for the contest of Assintel was awarded by the Commission for the following reasons:
– Clarity in the description of the guidelines of the project and its objectives,
– Strong value and social impact on the reference territory.
Iscriviti alla Newsletter!
Ricevi in esclusiva le più rilevanti novità sull'Industria 4.0