The annual conference of the Global Compact Leaders Summit will be held next June 15 and 16. An event that brings together representatives of national governments, private companies, associations, international organizations and civil society to discuss the strategies to be adopted for the implementation of the Sustainable Development Goals of the 2030 Agenda. In the virtual sessions will be shared valuable experiences and testimonies on the importance of the individual actions of each political, economic and social actor.
TeamDev and the Sustainable Development
TeamDev is part of the international network of the Global Compact, an initiative that promotes a sustainable economy by focusing its strategy on corporate citizenship, respectful of human and labor rights, environmental protection and the fight against corruption. In response to the call for businesses to create a model of sustainable development, TeamDev is committed daily to promoting a local economy attentive to reciprocity and sustainability, in its broadest sense, which includes economy, environment, community and territory.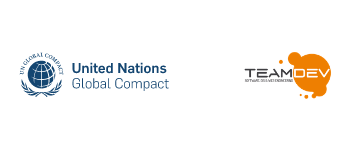 The Global Compact Report
TeamDev submitted its COP (Communication on Progress) to the Global Compact Network also for 2020, in order to renew its support for the movement and to monitor the company's progress in enhancing the Ten Principles of the Global Compact. The report is based on the evaluations expressed directly by employees regarding the field of Human Rights, Labor, Environment and Anti-Corruption: in the first part it shows TeamDev's focus on the values at the core of its action, while in the second part it outlines future goals.