"Help others. Give first. Make friends. "
This is the motto of Startup Grind, a worldwide startup community designed to educate, inspire and connect entrepreneurs, in collaboration with Google for Startups.
Founded in Silicon Valley, Startup Grind has helped millions of entrepreneurs build their businesses, connect with strategic partners and achieve secure financing.
Startup Grind is based on sharing experiences and on a scale of values.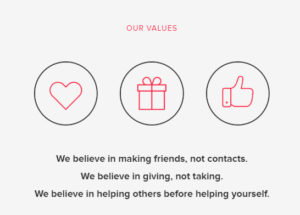 Through monthly events in over 500 cities in over 125 countries, successful business founders, innovators, educators and investors share their personal stories and lessons learned on the road to creating large companies.
Among the events in Italy, Startup Grind Pescara was created thanks to the support of local innovators and entrepreneurs including The Hive, business incubator certified by MISE and recognized by UBI GLOBAL among the 10 best incubators in the world, and the Costruire Insieme Onlus Foundation.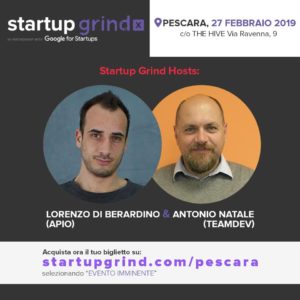 Startup Grind in Pescara, Antonio Natale and Lorenzo di Berardino
On February 27, 2019 the second Startup Grind event will take place in Pescara.
Lorenzo Di Berardino, CEO & Founder of Apio, and Antonio Natale, CEO of TeamDev and GIS manager will participate as speakers.
The event will have as topic "IoT & Smart Building" and will be held in the new headquarters of The Hive in Pescara. The agenda is divided into three moments, the last of which will be the networking session that will see the two speakers involved to illustrate the highlights and the success of their companies.  
You can register for the event here> https://www.startupgrind.com/events/details/startup-grind-pescara-presents-lorenzo-di-berardino-apio-antonio-natale-teamdev/#/
A 20% discount on the ticket price has been reserved to the customers and friends, get it here> https://bit.ly/2V75V7v
or by entering the teamdev20 code at the time of purchase.
Some reviews of participants in Startup Grind events around the world
[ Fonte: official website www.startupgrind.com ]
"Given us many ideas for the future."
"What is unique to any other tech event is that you feel Startup Grind's values throughout."
Iscriviti alla Newsletter!
Ricevi in esclusiva le più rilevanti novità sull'Industria 4.0